Let's be honest and just agree that the things in life that make us happy tend to fail their objective from time to time. I have personally noticed this more often as I have gotten older, and seemingly mostly on account of my life is just busier. Whether it's working longer hours, tending to family matters, or just simply having to be a responsible human being, that free time we long for can disappear on us faster than a ship at sea being swallowed by the mighty kraken! Smoking a cigar is one of my favorite ways to enjoy the little moments in life that allow me to remove myself from the real world. Unfortunately, I have a tendency to get lazy or become complacent when it comes to deciding what I want to smoke. Complacency can be one of the most dangerous self-inflicted wounds that a person may sustain.
So where am I going with this?
As a cigar lover and fanatic, I don't always open myself up to the plethora of options available to me.  When I first got into the luxurious life of smoking cigars I was a one or two stick a week smoker. At such a small volume I was drawn to the allure of the big fancy name brand $15-20 cigars. I could justify spending that kind of money because I wasn't buying in bulk or the whole box. As the number of cigars I smoked began to rise I quickly found out that my wallet couldn't keep up. So, what's the solution to this problem?  Stop being so damn "complacent" and open my eyes to this great new age of Cigars.
I started frequenting cigar shops and networking with fellow brothers and sisters of the leaf which introduced me to things I never knew existed. I kept hearing chatter about this craze of great cigars from "boutique" companies. That the products were extremely solid and competitively priced. Really? Could there be products out there that offered as much if not more than my usual go to cigars? I have since found out that there in fact is. The true beauty of Cigars lies within it limitless borders. There is no box that can contain the undeniable diversity that is available to us on a daily basis.
An extremely cool event I was fortunate enough to attend recently really gave exposure to the vast diversity between Big Brand and the relatively new "Boutique" brand. The event centered around a blind taste test, involving a Cigar from a company widely popular and known around the world. And one cigar from a relatively smaller company that may not be recognized quite as easily to some.  We were informed that both cigars ranged in the $8-10 range so neither will break the bank. Each cigar was marked prominently with a #1 or #2 as to not get mixed up. Both cigars were almost identical through and through. Vitola's practically mirrored each other, both wrapped in Ecuadorian Connecticut Wrappers, and Nicaraguan fillers. Each Cigar had their own unique characteristics that set them apart from each other just enough to be able to make a decision on which one was preferred. A few similar traits between the two were noticeable right away, as each had very barnyard or hay like notes on the dry retro hale.
However, there was an immediate split in the road off the initial light up. Cigar #1 began with lots of spice and pepper and a rather significant burn when retro haling.  On the other hand, cigar #2 had a hint of pepper but was much smoother with a near creamy like feel to it. Each cigar maintained nice earthy tones, with hints of nuttiness. Cigar #1 was milder to medium bodied, where cigar #2 had much more of a fuller medium body as far as strength.
Cigar #1 pleasantly changed complexity a bit more than cigar #2, however cigar #2 was so much smoother complexity didn't matter as much. The burn on each cigar was actually quite amazing. At one point the gentleman sitting at the table with me had both of his cigars on two fingers of the bowl ashtray along with my two cigars positioned opposite of his. All four cigars nearly mirrored each other in relation to burn and ash length. After a good hour or more everyone participating this blind tasting finally felt the need for closure. We had all exchanged notes and our ideas on which cigar was which. Come to find out without knowing what the cigars were, I believe there was about an 80/20 split favoring the boutique brand cigar, or Cigar #2.
Final reveal……cigar #1 was a Drew Estates Undercrown Shade (Big Brand), and cigar #2 a Crux Epicure (Boutique). I was immediately humored to hear this, as I was talking to a guy, a few days before this event, and all he smoked was Drew Estates products. He mentioned how for how many different blends they put their name to he hasn't had many he didn't like. Obviously, I had to hit him up again and give him the rundown on this blind tasting and made him promise to try the Epicure. While I wish I had heard a verdict from him before I wrote this, there is no way he can deny the similarity if not come out preferring the boutique cigar.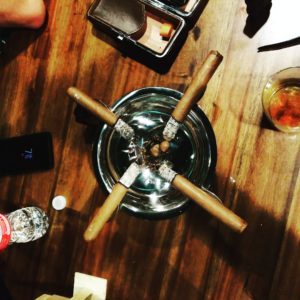 I can't begin to describe after all was said, done and revealed how cool of an experience this really was. For me this was an even bigger eye opening than others as I do not traditionally smoke Connecticut styled cigars. However now I know there are two great options out there if I am looking for something a little milder that would pair perfectly with a nice cup of joe in the morning. Just a solid example of the fact that while some companies may be a bit smaller and might not distribute as widely as the big dogs, they are absolutely capable of standing up with them when it comes to their product. Next time you're hanging out at your local shop make a recommendation to do an event like this, it is a ton of fun!
I understand that everyone has their own personal preference and maybe even loyalty to specific blends, strengths, sizes and company of cigar. I know that there are many cigar aficionado's out there that stick with the ageless motto of "if it aint broke don't fix it". For the smokers that regular Montecristo, Cohiba, Davidoff, and the other many Mega cigar companies, you will never hear a complaint out of my mouth. But while we thrive together in such an impressive community, I promise you to stray from the norm a bit here and there may leave you in disbelief as I have been.
There are some really great companies out there, such as Southern Draw, the aforementioned Crux, Roma Craft, Foundation, Patoro, Illusione, and many more! Next time you're at your local shop or just kicking back with some friends try to bring something new to the party that others haven't tried yet. Some of these boutique brands may not be available in select areas, and since they typically won't stretch your wallet go ahead and grab a handful and pay it forward. We are all after the same Euphoric goal of total relaxation and happiness. Cigars are at the center of happiness in many of our lives and with this expansive flux of new products pouring in year after year, what a great time it is to be a cigar smoker.
I am a Texan through and through, born and raised in North Texas and lived here my entire life, give or a take a few years. Many moons ago I was a collegiate athlete, having played baseball for two years at Odessa Junior College and a year at Henderson State University in Arkadelphia, AR. My days now are spent fishing bass tournaments and learning as much as I can about the cigars I smoke on a daily basis. And while it has nothing to do with anything GO DALLAS STARS!!
Tags:
#bigbrand
,
#boutique
,
#crux
,
#drewestates
,
#gocruxyourself
,
#inthehumidor
[bannergarden id="2"]