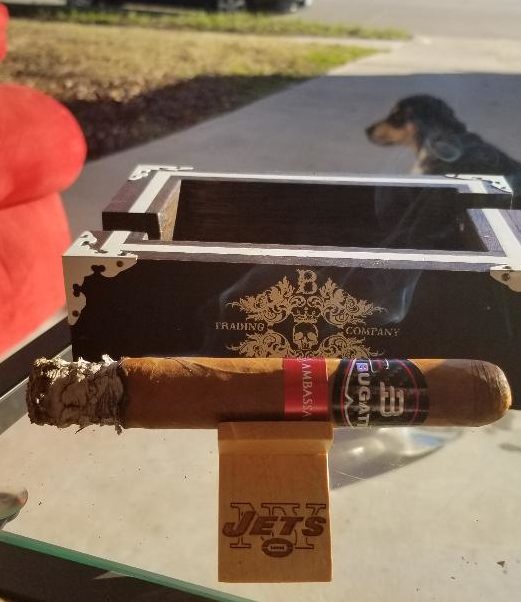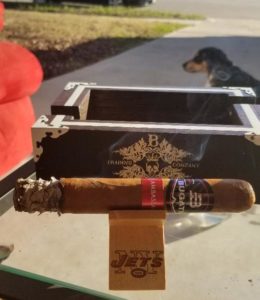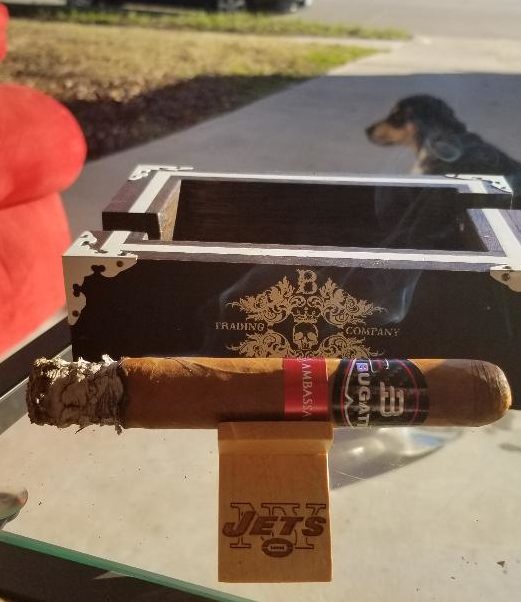 Shapes: Gordo, Robusto, Toro
Wrapper: Ecuador Habano
Origin: Dominican Republic
Filler: Brazilian, Dominican, Nicaraguan
Size Smoked: Toro (6 x 54)
MSRP: around $11.00
So when you hear the word Bugatti, you can almost guarantee the first thing most people think about, is a car that 99% will never be able to afford but we all love to look at and dream about. You thinkink speed, luxury, prestige, and just simply put, a high class style of life. Well, after smoking the Ambassador by Bugatti, you honestly can say they are bringing all those traits from the car to the cigar. From the first look at the Ambassador, you can just see the quality of construction, a bad-a$$ band, and a great feel to the cigar that will help transform your day into that high class style of life right as you light up this beauty.
Time to set the mood and light – 1st gear
Well its Playoff time in the NFL and my buddy, who is a Colts fan, came over for the game. After smoking the Bugatti Signature on New Years Eve, I decided to smoke the Ambassador as I typed up the review I was going to do for the Signature. Drinks were poured, game was on, and it was a perfect 68 degrees out here in Texas. To say things were perfect, would only be true if my Jets actually were playing but one can only dream, so I will say this is as close to perfect as it could be given the state of my NFL team. After cutting the cigar and lighting up, those first couple of puffs were heavenly! Super smooth draw, great fluffy smoke, and a wonderful creaminess hit my palate right off the bat. I was very happy I decided on this stick for the day.
The first third – 2nd gear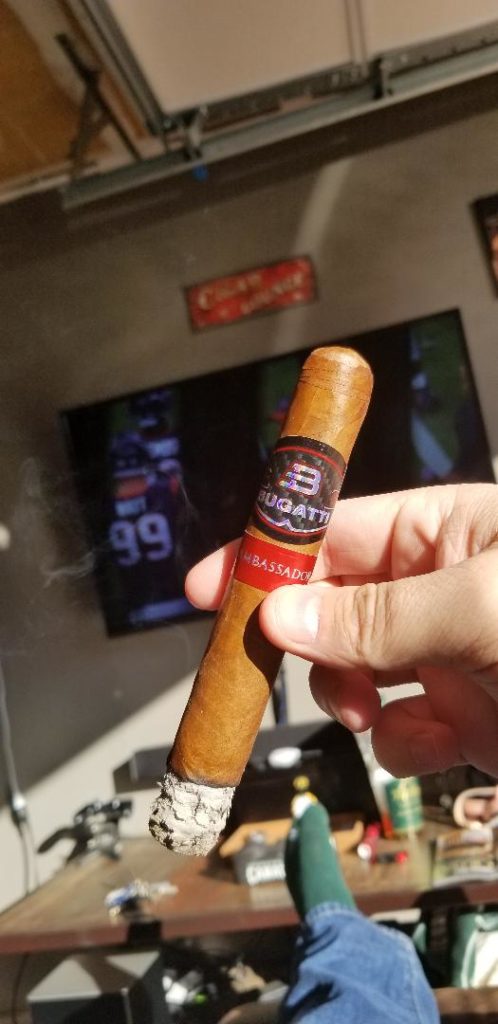 So as I was watching the game, enjoying the Ambassador, loving the creaminess of the cigar, I forgot I was supposed to be typing up a review for the Signature. It was at that point I decided the Ambassador was the cigar I needed to review. I like bold cigars which is the way I would classify the Signature. The Ambassador is definitely medium in boldness and I was falling in love with this cigar. That truly says a lot in my opinion as most medium bodied cigars are just solid smokes, not this tasty, but the Ambassador is special. Along with the creamy notes came notes of light coffee that really complimented each other. Side note – if you want a bolder cigar, do make sure to try the Bugatti Signature as it was a wonderful cigar with lots of flavor and a nice bold profile. But back to the stunning Ambassador!
The second third – 3rd gear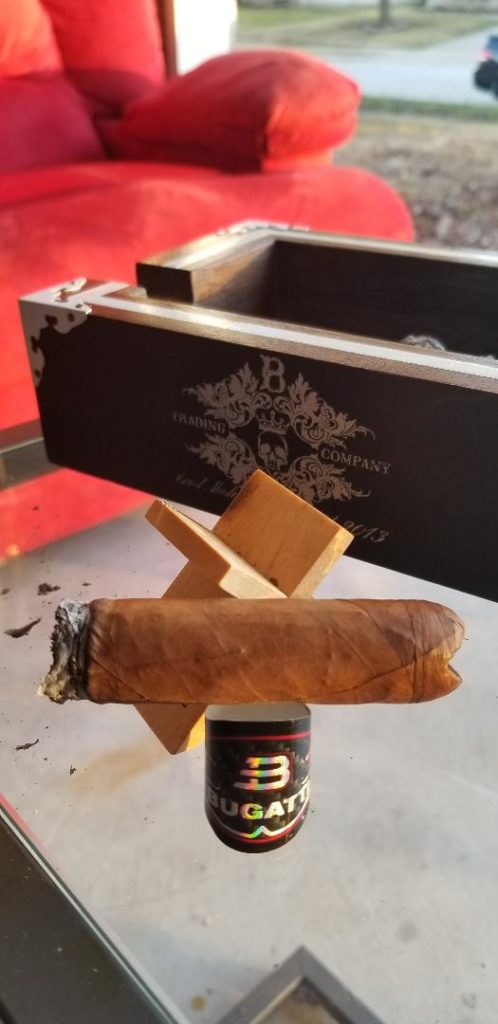 So truth be told, the second third of the cigar really did not vary much in boldness or flavor which to me, I was perfectly fine with because I was enjoying the creaminess as described in the first third. The cigar was burning great and the ash was solid and was holding strong.
The final third – 4th into 5th gear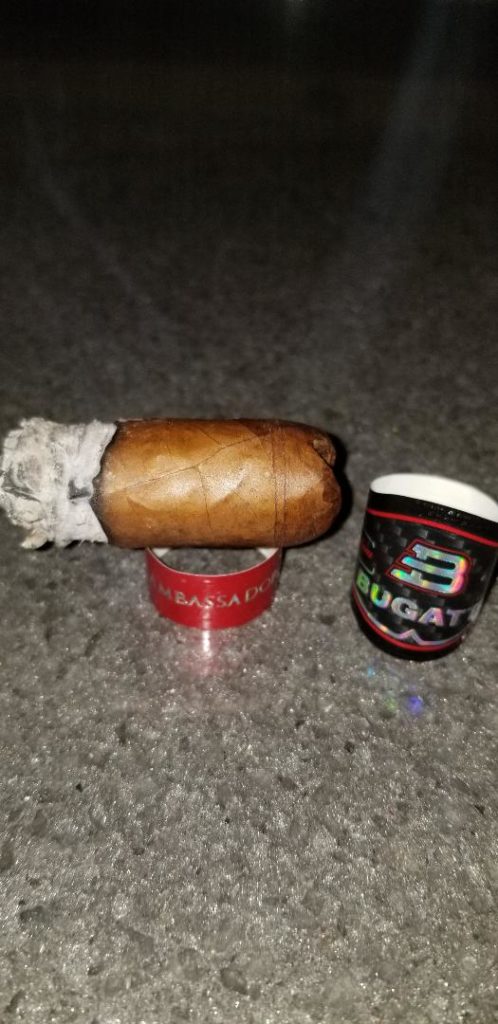 So this is where you hit the highway, put the pedal to the floor, and wave to every cop that you pass on by when you are in your Bugatti. (We here at Inthehumidor.com do not condone speeding or waving at cops as you pass by them, just saying). So the creaminess of the cigar fades just a bit and now some spice notes start to come through. Almost like a nutmeg or sweetness spice. Again, it fits the cigar perfectly and the smoke and construction is still damn near perfect. I smoked this beauty to the nub and would have kept going but it was starting to get just a little to hot.
Conclusion – Time to park
So this cigar is by no means the most complex cigar you are going to smoke, but it is SUPER tasty and constructed perfectly! I had no burn issues, only one relight, and about an hour and 40 minutes of enjoyment out of this beauty. The cigar did smoke a tad slower than most toros that I have had and I am grateful for that. As mentioned earlier, it really does take a lot to impress me out of a mild to medium to cigar and this medium stick really hit the spot for me. I highly recommend this if you are a fan of a medium bodied cigar and would say this would go excellent with a nice cup of coffee in the morning, or a nice post dinner smoke with some baileys to add to that coffee.
Rating
4.8 out of 5! (Only reason it is not a perfect 5 is that I do wish there was a TAD more spice in the cigar. That would have made it the perfect medium bodied stick in my opinion)

I was introduced to cigars and had my first stick in 2015. Since then, I have gone headfirst into the amazing world of cigar culture. Living in Texas has its perks as cigar lounges and limited cold weather allows for an amazing cigar experience. Some of my favorite brands are CAO, Camacho, Davidoff, Southern Draw, and anything done by AJ Fernandez.
Tags:
botl
,
brothersoftheleaf
,
bugatti
,
bugatticigars
,
cigar smoker
,
cigarlife
,
cigarlifestyle
,
cigars
,
cigarsofinstagram
,
cigarworld
,
sistersoftheleaf
,
sotl
[bannergarden id="2"]