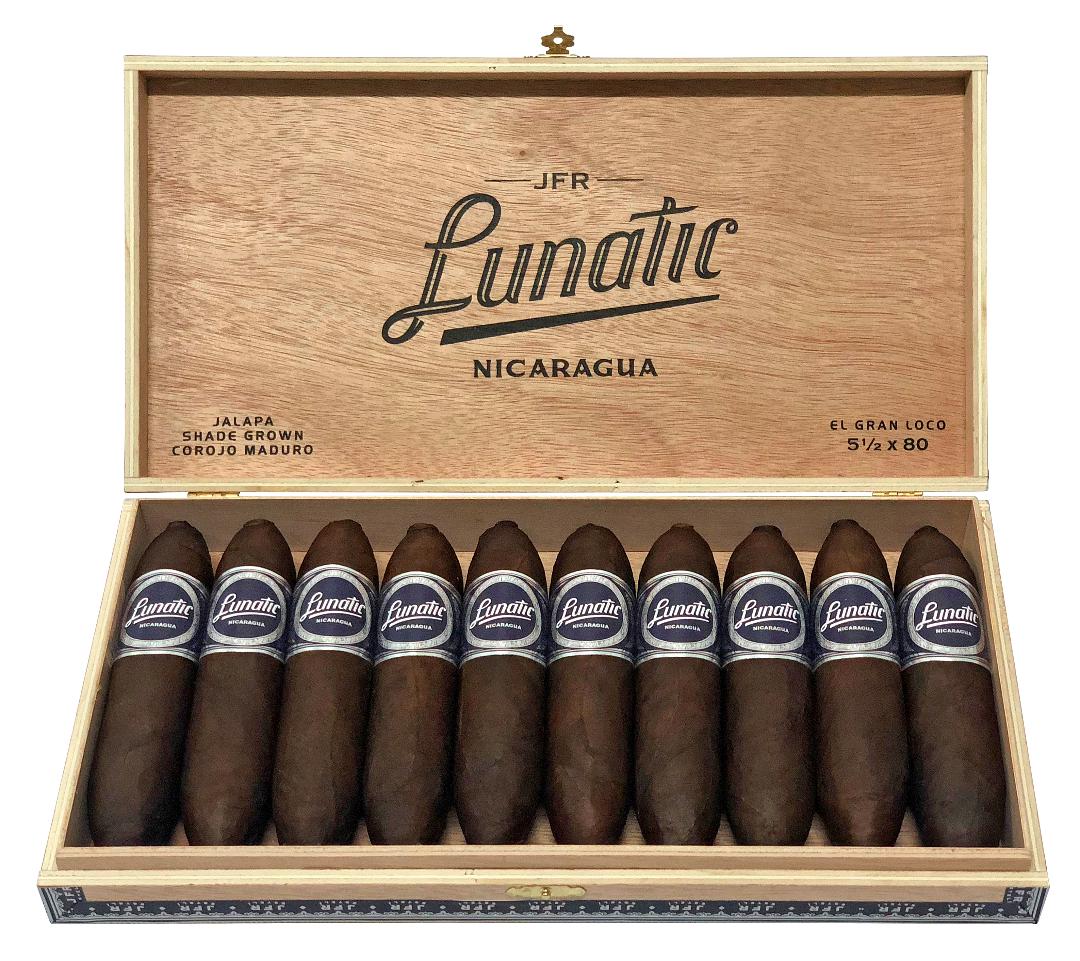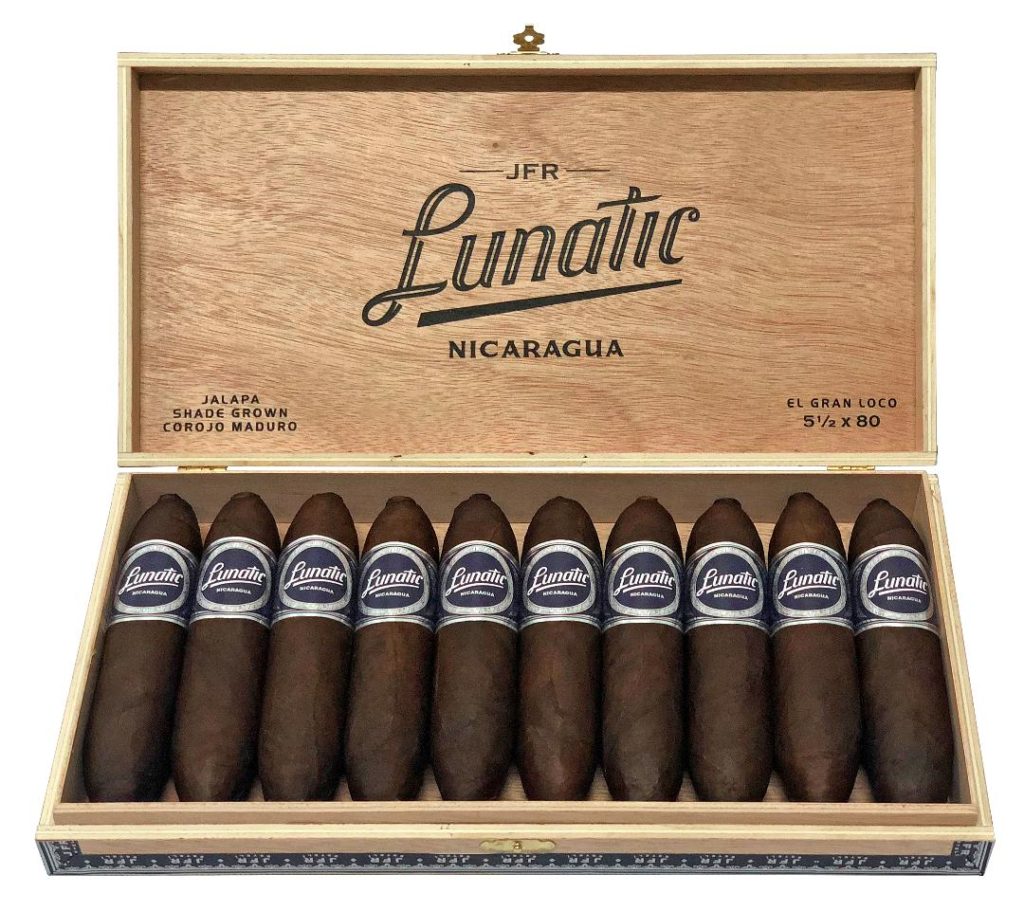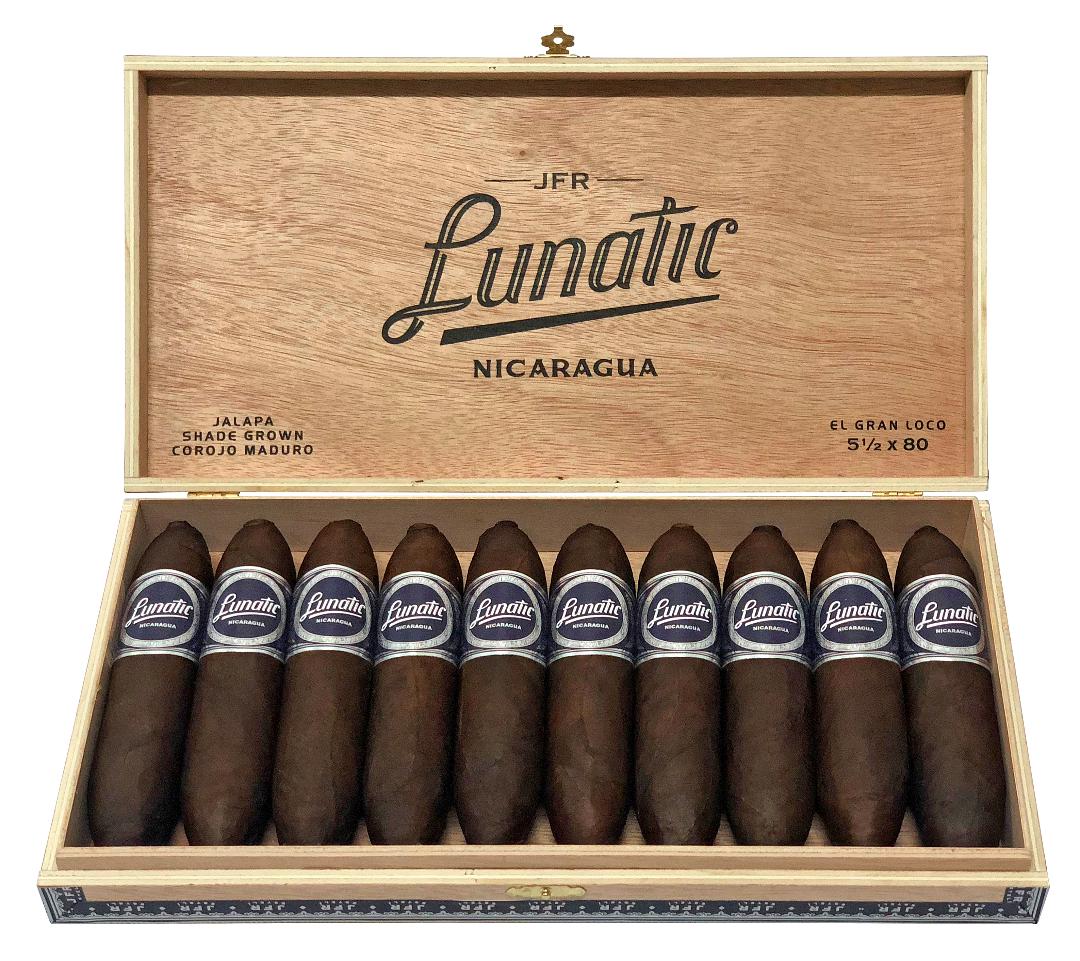 Aganorsa leaf has added an exciting new blend in three unique perfecto sizes to the JFR Lunatic brand. Lunatic Loco consists of three GIANT Perfecto Nicaraguan puros in 4.75 x 60, 4.75 x 70, and 5.5 x 80 vitolas. The cigars are made with 100% Aganorsa Leaf tobacco and are wrapped in the proprietary Shade Grown Corojo Maduro cover leaf grown exclusively by Aganorsa in Jalapa, Nicaragua. Medium to full flavored with a rich body and a long, sweet finish, Lunatic Loco stays true to its name with this series of cigars that push the boundaries of both size and flavor.

"The blend is fantastic" states Terence Reilly, who serves as Vice President of Sales and Marketing. "Equally important, the unique vitolas combine with the dark beauty of the wrapper to create a powerful visual impact and make the Lunatic Loco immediately stand out in the humidor."
Max Fernandez states: "Some have told us that growing Maduro capa like this is in Nicaragua is impossible and unrewarding. I guess you can call us crazy because we believed we could create a Maduro unlike any other. The only reason we make cigars is to show the delicious beauty of the soils of Nicaragua and perfect the expression of flavors. The size of the Lunatic Perfectos in this case only adds to the elegance of these cigars."
Lunatic Loco will be available at IPCPR in three fat perfecto vitolas: El Loquito (4.75 x 60), El Loco (4.75 x 70), and El Gran Loco (5.5 x 80). All are packaged in boxes of ten cigars. Suggested retail prices will range from $8.70-$9.99.

I was introduced to cigars and had my first stick in 2015. Since then, I have gone headfirst into the amazing world of cigar culture. Living in Texas has its perks as cigar lounges and limited cold weather allows for an amazing cigar experience. Some of my favorite brands are CAO, Camacho, Davidoff, Southern Draw, and anything done by AJ Fernandez.
Tags:
#cigarindustrynews
,
#cigarnews
,
#cigarpress
,
#cigarpressrelease
,
#hotoffthepress
,
#inthehumidorpressrelease
,
#readallaboutit
,
adanorsa
,
aganorsacigars
,
cigarcollaboration
,
cigarlife
,
cigarlifestyle
,
inthehumidor.com
,
inthehumidornews
,
IPCPR2019
,
jfr
,
newcigaralert
,
readitherefirst
[bannergarden id="2"]