Country: Honduran/Dominican
Shape: Toro
Wrapper: Connecticut Broadleaf
Filler: Dominican Piloto Cubano
Strength: Med-Full
MSRP: around $14.49
My Rating: 4.25 Stars!


For this review, I had the pleasure of enjoying 2 of these fine cigars. The first was while watching Thursday Night Football at my local cigar lounge and my second was while watching my New York Jets face off against the Denver Broncos in my "man cave" (the garage).
While enjoying the Legend, right off the bat both times I tasted light sweetness from the Connecticut Broadleaf wrapper. It was not too powerful and gives it a nice start on the palate.
During the first 1/3 of the cigar, I tasted notes of leather, spice, and the light sweetness as mentioned above but the sweetness fades towards the bottom half of that first 1/3.
During the 2/3 of the cigar, the boldness starts to build within the cigar and notes of coffee and cocoa starts to shine through. During this portion of the cigar, during my second time smoking, I did have to correct the burn twice.
During the final third of the cigar, the spice comes back a bit but the prevalent taste is still that nice creamy flavor paired nicely with the oily taste from the wrapper. The burn stayed solid and the smoke did not leave any burnt taste on the palate like some cigars can get towards the end of bolder cigars from burning to hot.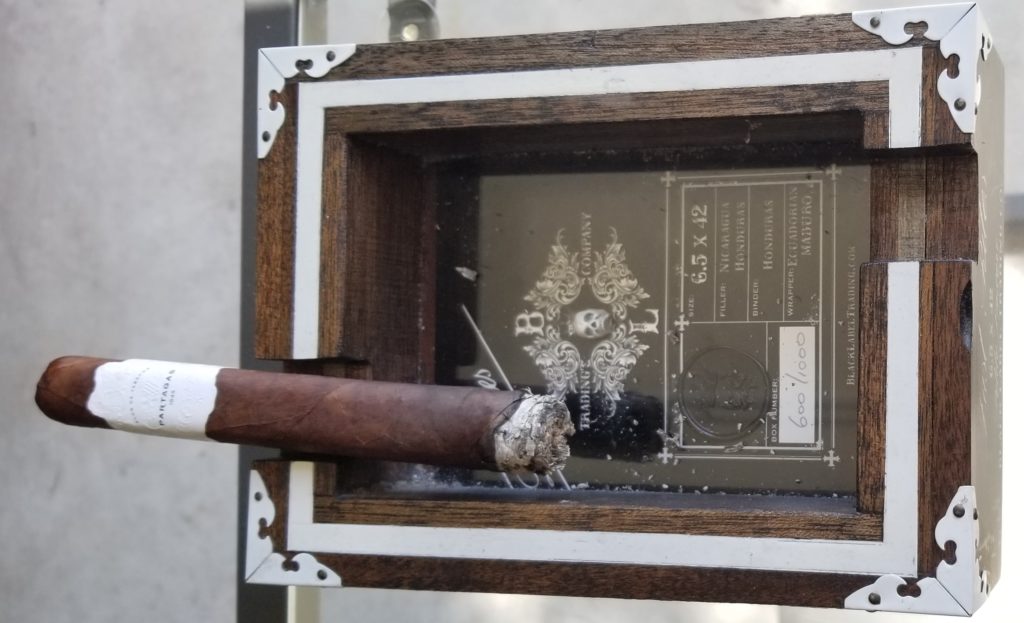 Final Notes
Partagas is a brand that is known and respected but for some reason, while in the humidor, I normally find myself overlooking and moving onto another brand, even though I have enjoyed every Partagas I have had, especially the Partagas Black. With a price around $11 in shops and online, I can honestly say this stick would definitely get a 3rd, 4th, and 5th try. Its a great smoke from start to finish and is a great choice for those who enjoy a medium full cigar. Its a wonderful balance of boldness along with great bold and subtle flavors. Each smoke lasted me about and hour and 30 to hour 40 minutes so take some time to relax, grab a drink, and enjoy this cigar!
4.25 out 5
Review by Kurt Hendershot

I was introduced to cigars and had my first stick in 2015. Since then, I have gone headfirst into the amazing world of cigar culture. Living in Texas has its perks as cigar lounges and limited cold weather allows for an amazing cigar experience. Some of my favorite brands are CAO, Camacho, Davidoff, Southern Draw, and anything done by AJ Fernandez.
[bannergarden id="2"]