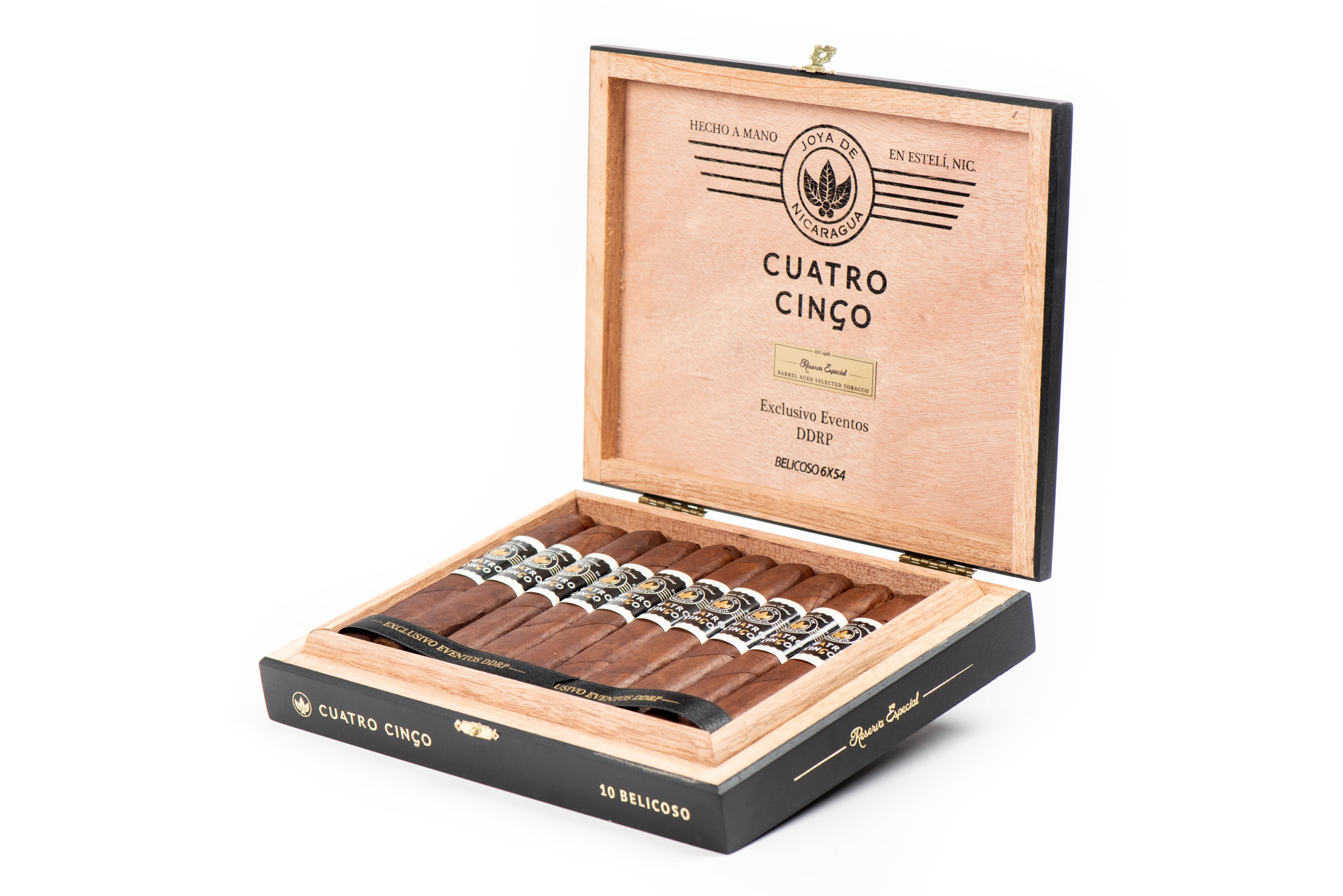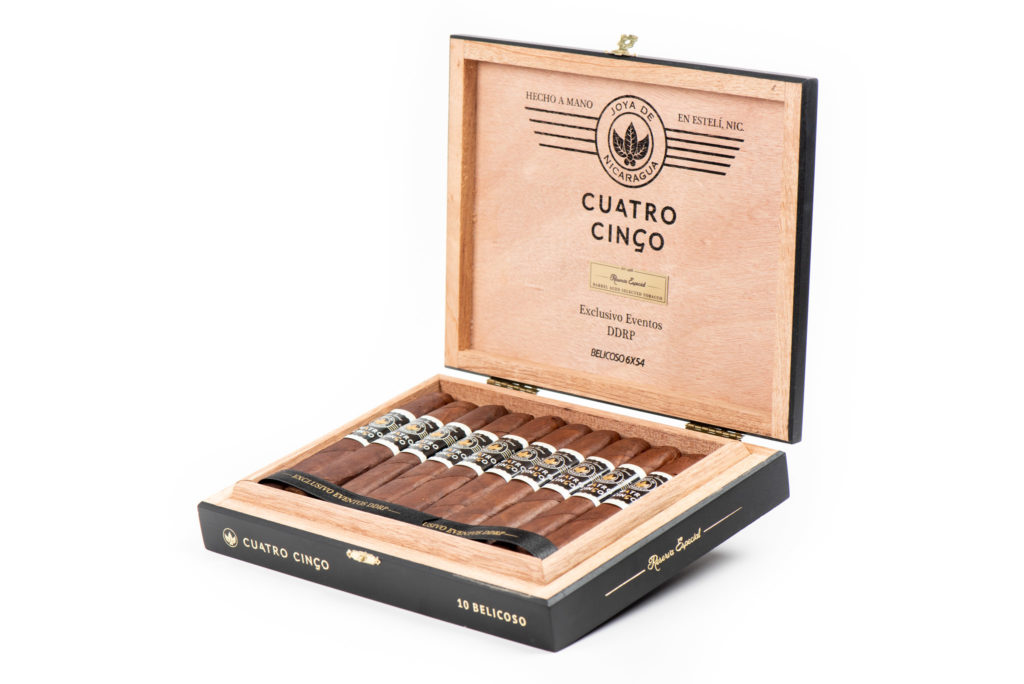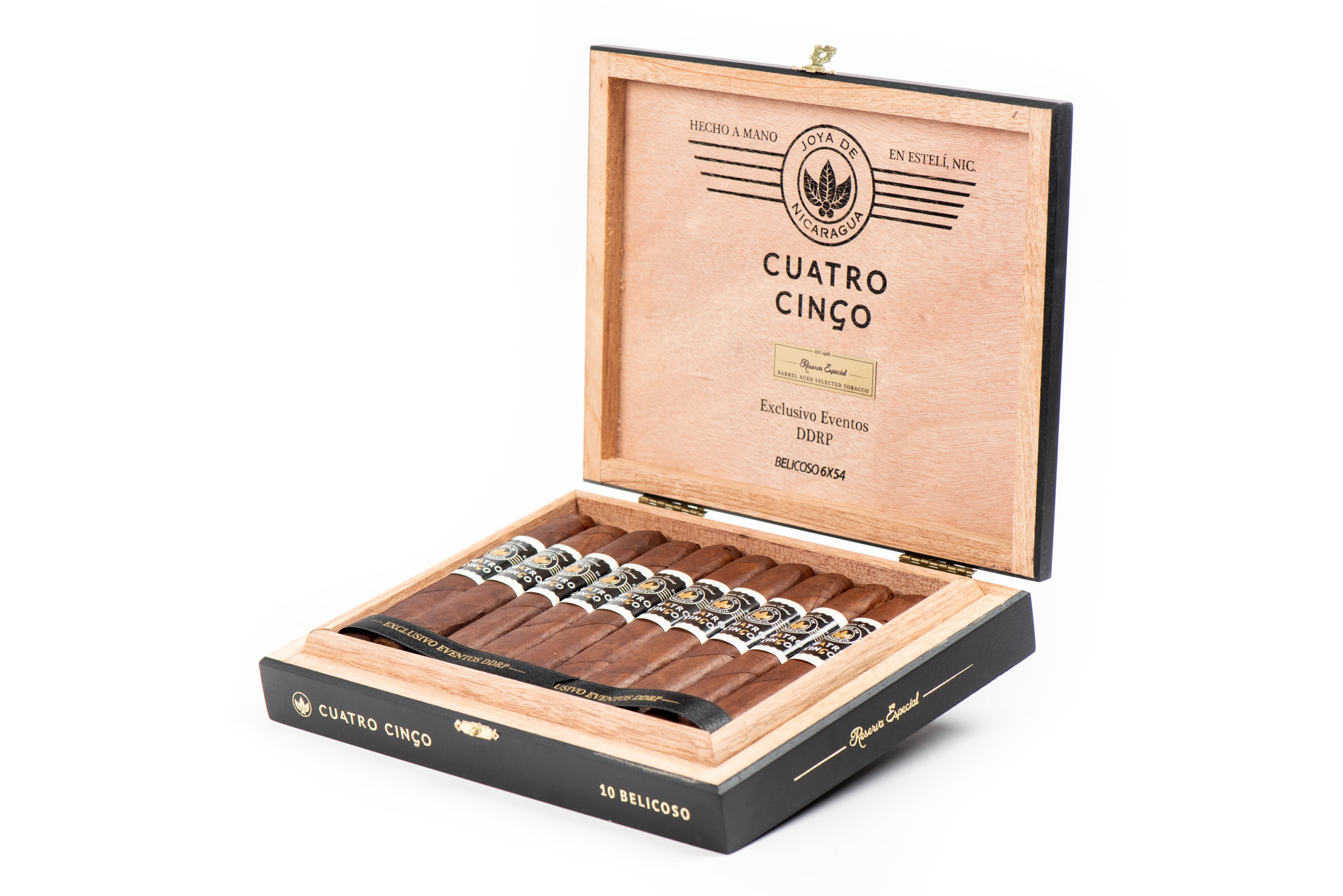 Thursday, May 30, 2019 — Estelí, Nicaragua. – When Cuatro Cinco was originally released in 2013, it immediately became a favorite amongst smokers around the world and it was dubbed one of JDN's true "Obras Maestras". This summer, Joya de Nicaragua and Drew Estate are making an exclusive and limited beautiful smoke for cigar lovers across America: Cuatro Cinco Belicoso Exclusivo Eventos DDRP. This rare realease of Cuatro Cinco, will be ultra-limited to two boxes available for sale at Drew Diplomat Events (DDRP) from June until the end of 2019.
Cuatro Cinco is an extraordinary achievement by Fábrica Joya de Nicaragua. Originally released as Edición Limitada, it commemorated 45 years of cigar manufacturing. Cuatro Cinco Belicoso Exclusivo is a carefully refined recipe featuring select Grade A fillers, aged within vintage white oak barrels. This super-premium blend delivers subtle, but extraordinarily enchanting woody notes, complex flavors and a velvety finish, due to the combination of Nicaraguan wrapper, Dominican binder, and Nicaraguan fillers.
"As a unique symbol of appreciation to the Joya de Nicaragua and Drew Estate fans that come over to our events, we are delighted to share one of our factory's greatest blends. If the Limited Edition Cuatro Cinco was a collector's item, we can say that the Belicoso surpasses its uniqueness, and the only moment when it will be found in stores will be during our events at DDRP accounts, only 1,000 boxes available nationwide" stated Juan Ignacio Martínez, Executive President of Joya de Nicaragua.
The Cuatro Cinco Belicoso Exclusivo Eventos DDRP is a 6 x 54 Box Pressed cigar that will be available as of June for DDRP Events with a limited offer of only 2 boxes per event at an MSRP $140 with all sales based on availability, so first-come, first-served.
Fans of Joya de Nicaragua are encouraged to download Drew Diplomat the official mobile application of Drew Estate – The Rebirth of Cigars which is available in the App Store for iPhone®, and on Google Play™ for Android™. For more information head to http://drewdiplomat.com. For a complete list of DDRP events please visit the Drew Diplomat App.
About Joya de Nicaragua
Established in 1968, Joya de Nicaragua is Nicaragua's first and oldest cigar factory in operation. JDN's commitment to quality along with their skillful and resilient people have brought their handmade cigars to over 50 countries around the world, making it Nicaragua's most international brand.
Obras Maestras is Joya de Nicaragua's designation for its ultra-premium family of cigars. It features commemorative master blends handcrafted by our most outstanding artisans. Its brands include Cinco Décadas and Cuatro Cinco (Viña Carmen's 2016 Cigar of the Year).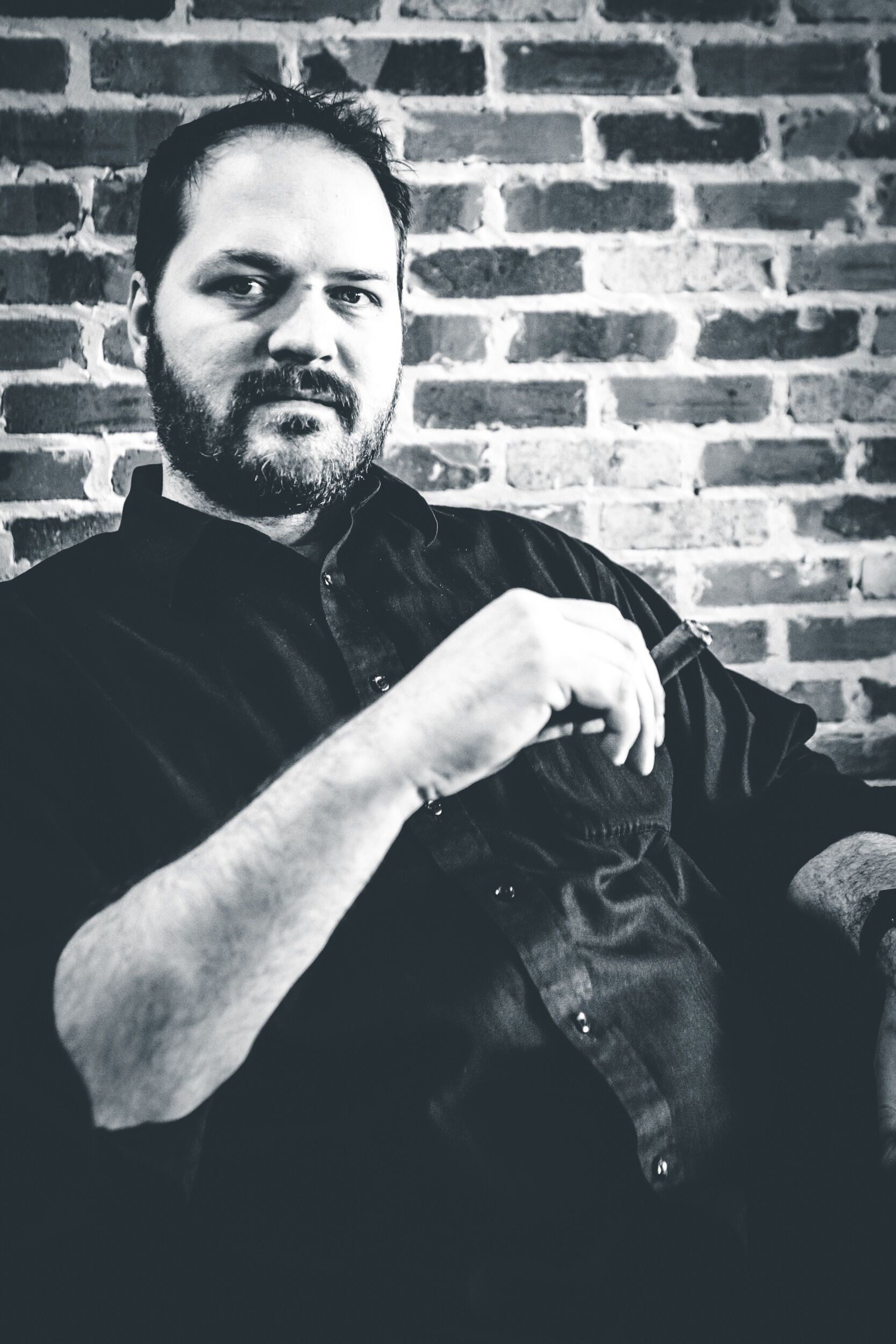 I am the Chief Editor of In The Humidor and have been running this site since 2007!  I enjoy a great cigar with friends and just hanging around the house.  I have 3 beautiful daughters and a wonderful wife, we live in the Dallas, Tx area.  I also enjoy a good bourbon, craft beer, and absolutely love the ocean and beach.
Tags:
#cigarnews
,
botl
,
brothersoftheleaf
,
cigarlife
,
cigarlifestyle
,
cigars
,
cigarworld
,
cuartocinco
,
drewestate
,
drewestatecigars
,
drewestatespressrelease
,
joyadenicaragua
,
sistersoftheleaf
,
sotl
,
stogies
[bannergarden id="2"]