Wrapper: Engañoso
Binder: Connecticut Broadleaf
Filler: Dominican & Nicaraguan
Size: Box Pressed (5 x 52)
Strength: Medium/Full
MSRP: $10.99
Allow me to give a brief shout out to Industrial Cigar Co. for even making this review a possibility, as they were fortunate, aggressive and awesome enough to get this amazing cigar in their humidor. If you are unaware of the Crux Limitada-IPCPR line, this is now their third year releasing this cigar and the name speaks for itself…limited. Only 1000 boxes of 10 were distributed to select retailers that had to be present to purchase at this year's IPCPR show in Las Vegas. A rarity that rivals bigfoot and UFO sightings, but when they happen it's truly a spectacle. (Yes, they are both real things!!)
APPEARANCE:
Distinctly visible from the get go is the fresh and elegant syrupy mocha colored wrapper with a nice smooth texture and almost no seams. The Marblehead cap is a work of art that even Edvard Munch would "Scream" at! Really working for me though is that secondary band that just oozes vintage Las Vegas nostalgia.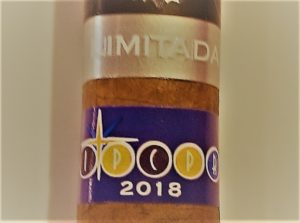 FIRST THIRD:
The draw is clear and smooth, as if the Waco Kid himself put the bottle down and went to work. Rich flavor immediately begins to coat the palate with notes of creamy milk chocolate, toasted nuttiness and a hint of spice. All the while at moments I would get a pleasant sweet taste of what seemed to be a combination of vanilla and toffee. Thick and billowy smoke rise around you like a protective cocoon. I can only imagine the kind of feeling Houston Astro's fans wished they had right about the time J.B. Jr. went granny "on em" last night!
I have had the pleasure of smoking two of these cigars now and can't help but thinking how many lost souls out there in this world pay a lot more than $11 for this feeling of Euphoria. I know there are some that may think the jackpot is a reduced rate lap dance and an all you can eat buffet, but leave the glitter, bad perfume and post strip club confessions where they originate and find a local retailer where you can get your hands on one of these cigars.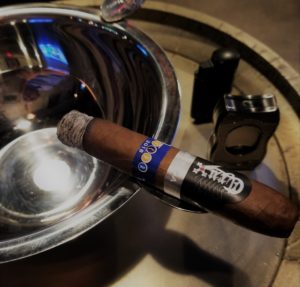 SECOND THIRD:
Already I am lost as to what my objective was here in the first place. My intention was to sit down and see if the Dallas Stars could find a road win and catch a little baseball here and there. I have become so immersed in this cigar that the 3-0 drilling Dallas was handed and the long faces at Minute Maid park are as distant as my baseball career.
The strength of the cigar is starting to ramp up now from a solid medium to the medium/full-bodied profile it portrays. Still with strong malty, chocolate and nutty flavors, the creaminess of this cigar really starts to build. Having smoked several different blends from the Crux line, I was not sure if they had another one that would rival how rich the Guild is. However, this one goes hand in hand yet with much more complexity. I am thinking to myself of a good comparison to the middle of this cigar and wildly came up with one idea. Imagine Bambi carelessly frolicking through a thick green meadow where her mother suddenly emerges as if she was never gone, and they prance together endlessly. Yes, that's just it, there is no sad story it's just a smooth transition through happiness. During this transition light notes of dried fruit and tea leaves come into play rounding out the flavor wheel.
FINAL THIRD (FINISH):
The burn to this point has been spot on, no runners, thick white ash, smoke as billowy as when it started. No more complexity to talk about here as the Starters in this game play the whole time. Continuing down a road of sweet Milk Chocolate, malty, nutty, with that touch of spice and tea leaves. I only wish I had some cigar tweezers so I could truly take this down to the nub. Damn shrek hands! The Marble Head with a good wedge cut allowed the smoke to stay nice and cool all the way through the very end. This is the one time you wish that finish line wouldn't get any closer, but cue the "Boyz II Men" and take me to the "End of the Road". Teetering ever so slightly towards a full-bodied strength it is about a fine frogs' hair short of making it there. Thank you to my grandpa for deeply embedding his "fine as frog's hair" whimsy when I was a child.
FINAL NOTES:
Obviously if you have made it this far you can see that I am a fan of this glorious cigar. Crux goes all out with this blend and I feel truly blessed to have the opportunity to sit here and write about something so great. Much of my cigar smoking is done in lounges or sitting around a patio with friends mucking it up, and just enjoying life. This is one cigar however, that I will say don't be afraid to sit down alone and get lost in it. Go all out of a good cup of coffee, put the game on, press play on your favorite playlist and take your time with this cigar to live in the moment. I feel confident in saying anyone, regardless of their palate, will enjoy this cigar just as much as I have.
FINAL RATING:
5 OUT OF 5 STARS!
I am a Texan through and through, born and raised in North Texas and lived here my entire life, give or a take a few years. Many moons ago I was a collegiate athlete, having played baseball for two years at Odessa Junior College and a year at Henderson State University in Arkadelphia, AR. My days now are spent fishing bass tournaments and learning as much as I can about the cigars I smoke on a daily basis. And while it has nothing to do with anything GO DALLAS STARS!!
Tags:
#
,
#crux
,
#cruxlimitada
,
#gocruxyourself
,
#IPCPR2018
[bannergarden id="2"]