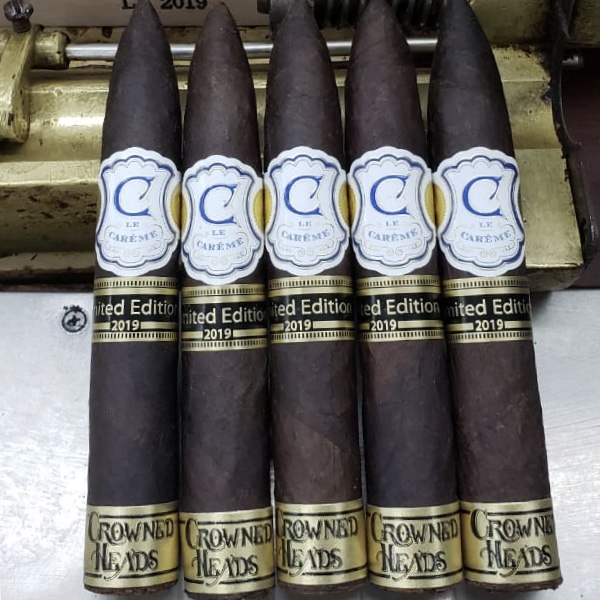 FOR IMMEDIATE RELEASE
April 4, 2019
Already a favorite of Inthehumidor.com, as Crowned Heads La Careme ranked in our Top 25 Cigars of 2018. Crowned Heads has produced what hopes to be the best version to date with this Limited Edition!
Under the heading, "back by popular demand," Crowned Heads has announced the return of the sought-after Le Careme Belicosos Finos in the form of a 2019 Limited Edition.
In February 2018, Le Careme Belicosos Fines LE 2018 was introduced and immediately became a cigar enthusiast favorite. High ratings and industry accolades ensued, culminating in Halfwhee/'s 'Cigar of the Year 2018' Runner-up award in January 2019. Unlike the regular production Le Careme brand which is trunk-pressed, the 51/2″ x 52 Belicoso Fino LE 2019 retains the same round format as it's 2018 predecessor.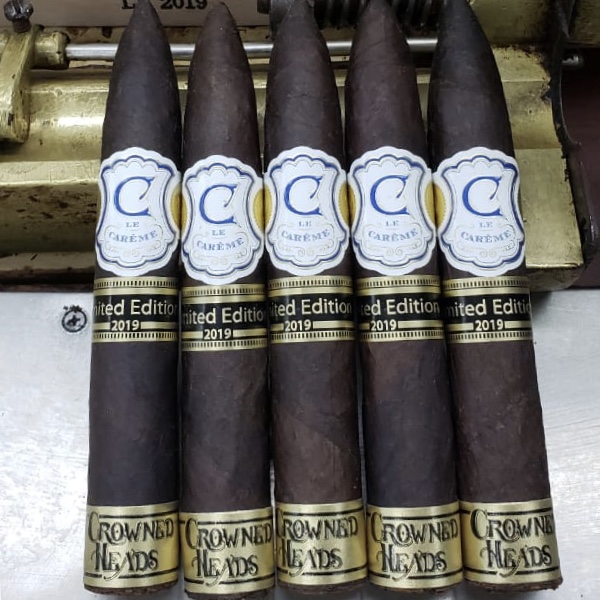 "When we released the 2018 LE, we knew we had something special," commented Crowned Heads co-founder, Jon Huber, "but we really had no idea that the Le Careme Belicoso Fino would go on to do what it did. We actually had made the decision to produce the LE 2019 in September of last year, well before the annual 'awards season' came into play. We also made the decision early on to increase the total production for 2019."
The blend is comprised of an Ecuadorian (Sumatra) binder, Nicaraguan filler tobaccos, and is finished with a Grade A Dark Connecticut Broadleaf wrapper. Production is limited to 2,500 (12-count) boxes, i.e., a total production of 30,000 cigars. The suggested retail price for the Le Careme Belicosos Fines LE 2019 remains the same as last year with an MSRP of $10 per cigar, and $120 per box.
Le Careme Belicosos Finos LE 2019 is manufactured at Tabacalera La Alianza, S.A., Santiago, Dominican Republic, under the supervision of premium cigar industry icon, Ernesto Perez­ Carrillo.
748 FREELAND STATION RD• NASHVILLE, TN 37228
I am a Texan through and through, born and raised in North Texas and lived here my entire life, give or a take a few years. Many moons ago I was a collegiate athlete, having played baseball for two years at Odessa Junior College and a year at Henderson State University in Arkadelphia, AR. My days now are spent fishing bass tournaments and learning as much as I can about the cigars I smoke on a daily basis. And while it has nothing to do with anything GO DALLAS STARS!!
Tags:
#hotoffthepress
,
#inthehumidorpressrelease
,
#readallaboutit
,
cigarlife
,
cigarlifestyle
,
Crowned heads
,
crownedheadsspecial release
,
inthehumidor.com
,
inthehumidornews
,
readitherefirst
,
specialreleasecigar
[bannergarden id="2"]