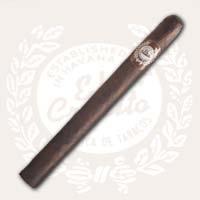 Country
: Dominican Republic
Length/Ring
: 7 1/2 x 46
Shape
: Churchill
Wrapper
: Maduro
Strength
: Medium M.S.R.P: $ 1.00/ stick Where to buy: 
Tinderbox
,
Cigars.com
,
Cigars Direct
My Rating: 2 1/2 Stars A Dominican-Nicaraguan filler blend and oily, Maduro wrappers achieve a 'sweet,' medium-bodied smoke. I know what you are thinking... Why is he smoking that? Well, i asked myself that when i bought these 6 months ago from famous smoke for the low price of $22.50 a bundle. Geez, you can barely get a cup of coffee these days for that price. Anyway, i smoked a couple of
… Continue reading the story "

El Credito Super Habenero – Aged

"