"No, you cannot smoke in here. They just passed the anti smoking ban."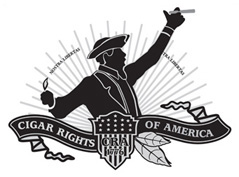 How often have you heard that latley? It is an all too often occurence these days for us cigar smokers to hear those exact words when walking into a pub or bar… some of us even our own cigar shops! How did this happen? How can this be stopped?
Well, I know we all have the same questions going through our heads but a number of cigar manuafatuers and retailers have decided to try and do something about it. It's called the Cigar Rights of America and it's about time. As I am sure most of you are aware of the SCHIP bill that congress is trying to pass to impose a 3,000% tax on tobacco, including cigars. This is unconstitutional and taxation without representation.
Please click on the link and read up about what they are trying to do for your rights as a cigar smoker. Join the fight and help us keep our rights as United States citizens. It is through these avenues that we must proceed to keep our government from taking all of our rights away. The land of the free… let's keep it that way.
Here is the list of Companies supporting the CRA:
Avo Uvezian
Carlito Fuente
Carlos Fuente, Sr.
Charlie Torano
Christian Eiroa
Eric Newman
Ernesto Padilla
Ernesto Perez Carrillo
Jonathan Drew
Jorge Padron
Jose Oliva
Keith K. Park
Litto Gomez
Manuel Quesada
Nick Perdomo
Paolo Garzaroli
Pete Johnson
Peter Baenninger
Robert Levin
Rocky Patel
Tim Ozgener