Country: Dominican Republic
Shape: Toro
Wrapper: Maduro
Filler: Dominican
Strength: Mild
MSRP: around $4
My Rating: 3.5 Stars!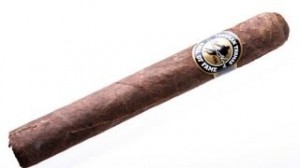 This is a very interesting cigar for me.  I have been a huge Thurman Thomas fan since I was a kid and collected all of this football cards.  When Stogieboys sent me some cigars influenced by him I was very interested to say the least.  Here is what the Stogieboys website says about them:
"Hall of Fame running back Thurman Thomas is a consummate professional.  An avid cigar enthusiast, Thurman Thomas has created this exquisite new cigar brand and StogieBoys is proud to be the exclusive distributor of Thurman Thomas Cigars.
Hand made in the Dominican Republic by the highly reputable General Cigar Company (manufacturers of well known brands such as Punch, Macanudo, Hoyo De Monterey, Partagas, and more), these cigars are masterfully blended with quality Dominican long filler tobaccos.  They are covered in a rich, dark Maduro wrapper that creates a challenging medium bodied smoke with plenty of flavor.
Smoke what the pros smoke and try a Thurman Thomas Hall of Fame cigar today."
The cigar felt firm in the hand and the wrapper showed only a few small veins.  The pre-light was giving smells of barnyard and slight chocolate.  I clipped the end and lit it up with initial flavors of hay and a hint of sweetness from the maduro wrapper.  The beginning was good and the burn was excellent throughout the cigar, but I did sense a grassyness and a bit of harsh flavors as I got to the middle and last third.  There was also a grittiness to it that I didn't care for.
This cigar is at a great price point and for that I say form your own opinion and smoke a few.  I guess for me I was expecting way more from my childhood hero's cigar, but that's probably just me being too optimistic.  I will admit mild cigars are not my thing so if it is yours, it's definitely worth giving a try.